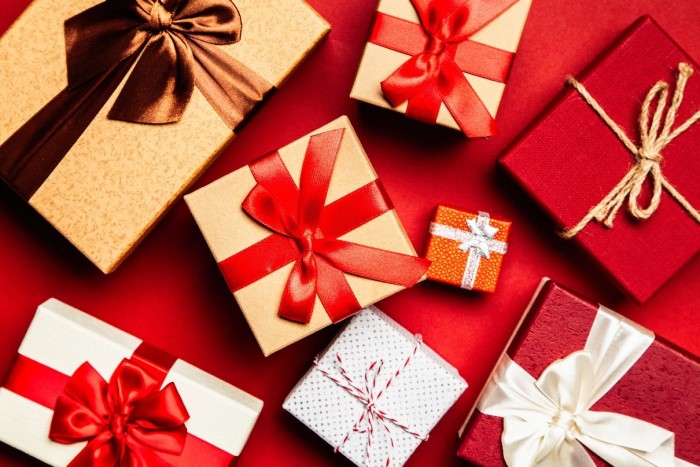 The holidays are around the corner which means it is crunch time to find the perfect gifts for your loved ones and of course – yourself! Finding the best gift for apartment owners can sometimes be difficult. You don't want to gift them a bulky item that takes up a lot of space, or something that isn't useful for their home. Usually living in an apartment means smaller or compact spaces, so it is important to keep this in mind when choosing a gift. The best gifts for apartment owners are ones that save space, offer dual functionality, and are convenient. Use this holiday gift guide for apartment owners to find the absolute best gift!
Sweet Space Savers
Space can be limited when you live in an apartment, so finding items that help make best use of the space are the ideal gifts for apartment owners. The right apartment gift for space saving will balance between its practicality and design. Here are some sweet space saver gifts:
Storage is key to saving space. Gifting an ottoman or bench with a storage feature is a perfect gift for an apartment owner. The space saving aspect can be used to store extra pillows, blankets, or books. The bench or ottoman can be displayed in the bedroom, living room, or as an accent piece in any room or niche.
The closet is the king of storage. Most people are always trying to stuff as much as they can in their closets, from clothes to holiday decorations, apartment dwellers will jam pack these small spaces. There are many different closet organizers to choose from such as clothes hangers that allow you to waterfall your shirts or pants or hanging shelves to store extra blankets and miscellaneous items. A closet organizer makes for a great space saving gift.
Sometimes there are spaces in an apartment you don't even think about using. For example, the space between your washer and dryer or the space between the wall and your toilet. These spaces can be filled with a slim storage cart that allows you to stowaway the random objects around your home. If you place the storage cart between your washer and dryer, you have room to organize the laundry detergents and other cleaning supplies. If you decide to use it in the bathroom, it creates extra space to stack toilet paper or hand towels.
Kitchen Cabinet Organizer
There is always one thing apartment owners have plenty of – dishes. Whether it's a collection of pint glasses or towers of Tupperware, a kitchen cabinet organizer is life changing in an apartment (really any kitchen). You can give multiple organizers, like storage bins, shelf organizers or a pot and pan rack, or just one but they will make the perfect holiday gift.
Functional Home Décor
While candles and picture frames make for very nice gifts and decor, often it can be hard to find a spot for them where they are not in the way or make unnecessary clutter. When it comes to home décor gifts for apartment owners, think trendy but functional. Of course, you want to find a gift that looks well designed and tasteful, but also you want the gift to work properly and provide a use to its owner. Your loved ones will appreciate the thought that went into selecting a gift that helps with home improvements. Check out these functional home décor gifts.
A great way to light up a room, floor and table lamps are excellent holiday gifts for apartment owners this season. This modern floor lamp includes three shelves with smart home features compatible with Alexa and Google Home making it a terrific décor item and multifunctional. Looking to add an extra little touch to a desk or nightstand, table lamps are a great addition. When selecting a table lamp as a holiday gift, look for ones that include multi-functions like charging docks. Floor and table lamps are an ideal choice as décor and gifts.
A great addition to any home, diffusers promote a calm and relaxed environment. After a long day, coming home to a space that not only smells good but makes you feel good is a win. Diffusers come in many designs and often with lights to help add a touch of décor in the space you decide to place it in. For the holidays this year, gifting a diffuser is a very thoughtful and caring present.
During the winter season, some days you just want to cuddle up with some hot cocoa and a good book or Netflix show. Having a super cozy blanket makes all the difference when getting comfortable. Not only is a throw blanket perfect for an easy décor item, but it comes in handy on those cold nights.
Another good functional home décor gift are floating wall shelves. Floating wall shelves come in all shapes, colors and sizes and do not take up any extra space in apartments. You can mount them in almost every room, adding additional space to your walls to place trinkets, clocks, plants, or books.
Cool Cool Gadgets
You can never go wrong with gifting an apartment tenant a cool gadget that will make their lives easier. Technology has come a long way and there are plenty of smart devices that can help simplify apartment life. When shopping for a gadget gift this holiday season, think about gifting something that will be convenient and easy to use. Here are a few gadgets that come in handy in an apartment:
Make dinner time easier by gifting an air fryer to your loved one. This Ninja – Foodi air fryer comes with two baskets that work independently, so you can cook two foods at once! It is game changing when it comes to cooking a meal, you can cook your whole meal at the same time in different ways. An air fryer is a fantastic holiday gift for apartment owners.
Having a Google Home or Echo Dot is like having a personal assistant. You can tell it to play music, check your calendar, look something up, and add to your grocery list. These home assistants have been at the top of holiday gift lists since they were first introduced.
Waking up is hard and waiting for a coffee pot to fill when you're in need of that first caffeine boost is a pain. Keurig machines offer its users a fresh cup of coffee in under a minute with no mess to clean up. It doesn't only just do coffee either; you can find k-cups for hot cocoa and tea too. The Keurig K-Mini makes for an excellent gift for an apartment.
Another gadget that provides extra safety and great use for its user is the Ring Video doorbell. An added safety feature is a perfect holiday gift for any homeowner. It provides a way for you to see and hear anyone who comes to your door on your smart devices. The Ring Video doorbell has built in motion sensors and connects to the original doorbell wires for continuous power.
Gift Up at Pavilion at The Groves
Pavilion at The Groves has luxury apartments waiting to be stocked up with holiday gifts this season! Find the perfect home today and choose from studio, one-, two-, and three- bedroom apartments and townhomes. View the apartment floorplans, pricing, and availability all online. Contact us to learn more about lease specials and schedule a tour!